Click here to Read what
Rocky Stargel of Stargel Yamaha had to say. AMA Mechanic of the Year

Click to read the article from CYCLE WORLD MAGAZINE

Read some comments from the owner of one of the Championship Teams who utilizes Performance Design.

Give your FCR (OEM or Aftermarket) Equipped KTM a Shot of Performance Like You Wouldn't Believe! Its Simple Bolt-on HP & Performance!

You can not buy another product for your Single Cyl. FCR Equipped Machine that will give you better THROTTLE RESPONSE, LOW END, MID RANGE or TOP END HP & TORQUE along with great tunability PERIOD!!! See all our applications & info.!!

Click here to see our new "TRI-TECH LINK" for your XR650R Super-Moto, Street Bike, or Off-Road Machine

Click here, to read what Larry & Steve McBride
have to say about products from Performance Design

We apply our high Tech Engine Coatings to all sorts of engine products, which in turn drastically reduces heat & friction which will increase parts longevity & increase HP & Torque.

We also regularly apply our coatings to racing suspension parts, linkages, transmission parts, valve train parts, etc. with super results.
Performance Design is primarily focused on Motorcycle and Automobile Racing Research and Development criteria. Performance Design, Specializes in aftermarket, suspension and engine High-Performance parts & components . We also have a High-performance Dyno testing facility. We also do stress testing of internal race engine components, as well as suspension parts, We can provide your company with Yield strength & Tensile strength ratings of your proto-type or "already-in-production" products. We can handle designing, developing, & manufacturing a very wide variety of high tech engine or suspension products. This includes typical components such as crankshafts, connecting rods, pistons, any valve train component, etc, to often overlooked items such as shift forks, shift drums, oiling system improving, components upgrading, clutch parts etc etc.
INNOVATIONS IN MOTION is what Performance Design is all about.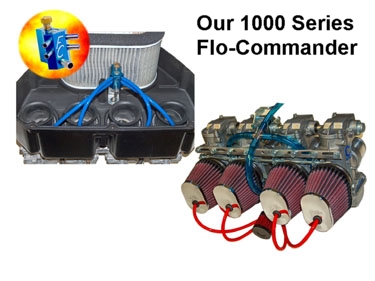 Steve Kesselring, the owner of Performance Design, never accepts development work as truly being done & successful unless the component can be quite easily manufactured in its developed form, & there is no better component available. Their goal is provide your company with a "produce-able" developed refined product. Also their Factory Level PLUS, race engine work (when we have time to do it), is backed by Steve's nearly 30 years of Race Engine Development & Engine Building experience, in both the automotive & motorcycle racing venues. They have been building championship winning race engines & components for many many years that they never even publicized. They've been doing confidential engine development for OEM & Race Engine Component Companies for many years as well.
As far as testing & development work, all done in-house, Performance Design, has a complete race engine machine shop , with all the standard equipment, as well as balancing, computerized flow bench work. We have a Dynojet 200 for motorcycle work, also a Land and Sea Automotive Engine Dyno, all in a controlled atmosphere environment. We do Internal Engine Dry Film Lubricants, Baked on Thermal Barriers, as well as Powder Coating for other types of parts. Also included is a sheet metal fabrication, Mig & Tig Welding Department as well.
Lowering Kit, or Lowering Links for KLR 650 & Lowering Kit for XR 250, Lowering Kit for XR400, Lowering Kit for XR 600, Lowering Kit for XR 650 Lowering Kit for XR650R 2008 KLR 650 Lowering kits

Performance Design
info@performance-design.net
1-334-693-9203

We were the first company to make Lowering Links for the KLR 650, & have been doing so for over 11 years, with these links & our other links being guaranteed to be the highest quality out there. We've been copied a few times by a few "places", but, never duplicated, guaranteed!!! We always design & develop all of the products we manufacture & sell, instead of copying, like the competition does. Especially since this is a critical part , you can rest assured the design & quality is over-kill on everything we produce!! As we've been doing the KLR links so long & moved so many, we've been able to get the price down to 79.95, but more importantly, we haven't lowered the quality one bit to do so!!!.

XR 650R Lowering Link XR650R Lowering Kit