Do to overwhelming inquiries from different folks we have decided to go ahead & place a pricing menu up for those of you who would like Internal Engine Coating work done. Our coating dept. has been doing coatings for a select few Racers, and for products we develop & manufacture for ourselves, and for other companies as well, for many years. We finally figured we'd give in and take in a limited amount of work from the general public as well.
About Dry Film Lubricants & Thermal Barriers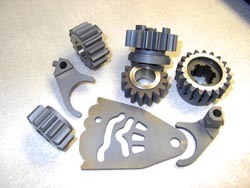 From Formula One, Top Fuel, and many other forms of racing all the way to NASA, have known the advantages of utilizing these coatings for many, many years. Now it is so affordable to the average driver, racer, rider, that with no "down-sides" to using them, why wouldn't someone want to take advantage of them.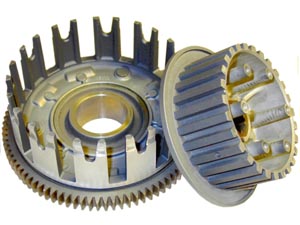 The typical Dry Film Coating, will give parts that depend on oil lubrication, an extra "slippery" surface, thus lowering friction even more than just with the oil, causing the oil to actually not reach as high a temperature. It is also extremely helpful upon cold start-up`s, incidental intermittent oil starvation, an overheating engine, and so fourth.
We all know that to win, you first have to finish. The more friction that can be removed, the more power you will make, along with making the engine components last longer as well. Reducing friction reduces temperatures, which will add HP in and of itself as well. Parts do and will, last much longer, when coated. We have actually put well over 400 full power dyno runs on a 600 HP engine, that utilized our coatings. The results were that the heat barrier was still working well, but amazingly to people who don't know coatings well, about 75 % of the coating on the piston skirts was still there! The machining marks from the pistons being manufactured were still as fresh looking as pistons with only a handful of dyno runs, without the coating. When you figure that a good set of racing pistons for a auto V-8 engine may be 5, 6, or 700 dollars, well, why wouldn't one want to protect them, and, make more HP at the same time. These pistons can be stripped, re-coated, and run again, it just makes common sense to coat them.
Thermal Barriers, allow heat to be radiated from parts in which the hotter the part, the more prone to failure it is, and the less HP the engine will make. Therefore being able to control heat absorption in a precisely controlled, calculated manner, is what any professional engine builder wants. Insulating certain areas, to keep the fuel-air charge cooler, really helps the HP numbers. Many engine "meltdowns " from fuel starvation etc., have even been avoided.
Contrary to what some may think, we want combustion temperatures to be high. What we don't want is detonation or pre-ignition. Therefore the way to obtain the best HP, concerning temperature, is to keep the charge as cool as possible, right to the point of the precisely timed ignition. With a good "cool" fuel/air charge you have much more liberty to set the timing curve, (or in some cases full advance all the time, as many mag. ignited engines use) to where the engine runs the best, period. Therefore the goal is to get the fuel/air charge into the combustion chamber as cool as possible, get the properly controlled hot combustion, then get the resulting heat out of the engine as quick as possible, without letting it be absorbed up into the cylinder head, from the chambers & port walls. You can even keep the charge cooler upon entering, buy coating the intake port, along w/doing the exhaust side, keeping the exhaust heat from freely being absorbed by the Cyl. Head. There are several parts some coating companies do, that we don't. This is due to the fact that it is actually counter productive to do certain parts with these type coatings. We only do what we have experimented with ourselves, on the dyno, and racetrack, & have proven to be well worth the effort.
Dry-Film Baked In Lubricants & Thermo-Barriers

The chart is for applying the proper coating on the proper parts.

Red is Thermo Barrier, Blue is DFL

Automotive, Motorcycle, Etc.

All pricing is for all parts coming in 100% disassembled and "basically clean".

Min. Charge for all coating wk is 75.

All Heat Barrier pricing is for our Pro Gold Type coating. We now have a lower temp type to use where higher heat could be harmful to the component.

Question?, send us an e-mail & ask info@performance-design.net
AUTOMOTIVE

MOTORCYCLE, ETC.

Pistons
Skirts 24
Tops 24
Both 45
Skirts 22.50
Tops 22.50
Both 40

Pistons Large Industrial/Diesel

Skirts 30

Tops

30

Both 55

Pin bores- Since 1 or 2 tenths of a thousandths matters here, you must have ample clearance.

Check pin bores/hone to proper size, coat, then check/fit again.

Auto Full process w/ above 8 ea in sets

LG Diesel w/above 10 ea

Two-Stroke heads 28 ea

2 heads 45, 3-65, 4-75

Cyl. Heads Includes chambers and valve faces

V-8 225 pr

V-6 200 pr

4 cyl 160

4 cyl 145

2&3 cyl. 95

Single cyl. 65

Exhaust ports (along w/chambers)

Intake ports, (along w/chambers)

25 ea

25 ea

1 into 2 ports

25 ea

I into 2 ports

25 ea.

2 stroke ports-quote

2 stroke transfers-quote

Intake Manifold

Underside heat barrier. Includes Carb type, Injection, & Blower type manifolds

V-8 110

V-6 100

4 cyl. 80

Alum. Intake Spigots quote

Float Bowls - To keep fuel/air charge cooler

Holley/pr. 65

Single Piece- 35 ea. 2- 55, 3- 65, 4- 80

With added accl. housing, add 5 ea.

Keihin FCR Single Carb
Body, Top, Bowl, Accl. pmp hsg 95
Bowl, accl. pmp hsg 40
Smaller sized complete MC carb 75
FCR Air-Box /Pod Adapters 1-30, 2-45, 3-60,4-70
Keihin/Mikuni Multi cyl sportbike type carbs (done while separated of course), including bowl.
2-120, 3-170, 4-220.
FC 2000
38, if new + 25 at time of purchase
Throttle Bodies
Auto-single 4BBL 75
Crower, Kinsler, etc, 4,6,8, cyl /Stacks Quote
MC Single 45

Twin 65

4 Cyl -105

MC with stacks - quote

Holley – body, blocks & bowls

4150 4160 - 125

Dominator

135

Oil Pumps std wet sump type

35 to 45

20 to 35

Camshaft gear drive gear sets Pete J, Milodon, etc.

4 gear – 75

3 gear – 65

2 gear - 55 Marine, Sprinter, etc

Timing gears (sprockets) teeth & back on upper.

Upper 30 lower 24

Sprockets Alum. or Steel

Most rear 40

Frt. 18

Valve Springs

Triple 7 ea

Double 5 ea

Single W/D 4 ea

Double 5 ea

Single 4 ea

Rockers (stamped) & Rocker Balls. (4 different places).

V-8 95

V-6 75

Push Rods

ends & guide plate area 7 ea, plates 6ea

Harley D

Push rods & rockers @ 4 points 35 1 eng

Cam Followers

@ 3 points 6 ea

@ 3 points 5 ea

Bearings (Note Must have ample clearance. Figure .0004 to .0006 on thickness ea. half)

V-8 mains 50

V-8 Rods 50

4 cyl mains 35, Rods 30

Note applies

Camshafts – lobes Includes gear section when integral.

V-8 80

V-6 70

4 cyl SOHC 60 dual-95

4 cyl twin cam 85

2 cyl Twin cam 65

Single cyl Twin cam 55

Clutch Basket Outer dog slots, for less wear & smoother action

Basket outer 55. add "ring-gear" 60 total

Hub 35

Transmission

4 speed

15 per gear, shafts-quote

Ring & Pinion 95

Note.

All gears on shafts, w/clips etc. removed.

6 speed, gears & shafts, (where applicable). 160

5 Speed 140

Drums & Forks 55
Send your parts to us well cleaned, no oil or grease whatsoever, Pistons, if used, should have the carbon removed, but do not glass bead the skirts under any circumstance. Cyl. Heads must be cleaned as well, but can be glass beaded. Any parts cleaning, other than the chemical treating and surface etching we do
for the normal process, will be subbed out & billed @ 75 per hour, as we do not do degreasing at our main facility. The min. cleaning charge is 35. Your parts will then be processed along with newly manufactured/machined products.
We also will be doing some powder coating for the public on a limited basis as well soon, as long as we can get it in amongst the production powder coating work, our coating department does. This would include Motorcycle Chassis, wheels, & other parts as well. We do not do older used & rusty parts except on a limited basis. All parts must be able to withstand 350 to 375 deg. Fahrenheit, without weakening or causing structural strength problems. If in doubt, e-mail and ask us first.
All parts sent, for any type coating work, must be as said, free of carbon, oil, or oily residue, and must be COMPLETELY disassembled with any and all seals, gaskets, etc. removed. We can mask bearing races however. Holes that are threaded or that can't have coating in will be protected as well.
Send your parts protected/padded well, along with your ship-to address. You can pay for the processes thru our web site(s) via credit card or call with info. We will confirm pricing upon receiving and looking over the parts to be done.
---
Some interesting info pertaining to our specialty carb & throttle body mods.

We will be periodically adding pics & info on carb mods & coatings we have been doing for select companies, race teams

& racers for many many years. Although we quit doing race engines for the general public several years ago, & only do a limited number of engines & do engine work for a few companies & customers who want top level work only, there are a few services we can provide along with the production & R&D work we do daily. We do not "rebuild" carbs or throttle bodies. If you need the ultimate in trick top level work though, we can quote it for you if we can work it in. If however you are price shopping, & that is your priority, we aren't interested! If you want top level work for a very fair price for what you actually get, we can help you! Once in a while we can be talked into some head work if time allows, but only if you want only the best work available to the public, anywhere!

One process that we have been doing for years for top level racers is of course our coatings. One area we are still totally amazed about is the fact that so many racers & "engine builders" don't really understand the benefits of many types & areas of coating applications. One specific area is heat barrier coatings on intakes, carbs & throttle bodies.

Its been known for decades that the colder the fuel/air charge is, the higher the power output will be, overall. This is why dry ice has been used to cool fuel in "cool cans" & etc. Think about a carb or throttle body setting on top of a hot intake manifold on an automotive engine. Especially when we are talking about a float bowl on a carb. Its basically a "fuel pre-heater". That's fine for a stock engine or a fuel mileage type engine, but for HP, not good! From flash point issues, to vapor lock, heat in the fuel & fuel system is the racers enemy. As fuel passes thru a bowl under race conditions, its trying to keep the carb & intake runners cool. When the fuel isn't being used very fast, the problem is greatly intensified. Also,

remember, the air & air\fuel charge does not simply flow thru the system. there is the reversion effect, the "ramp-up",

fuel stand-off & many factors that keep the air flow from simply passing thru. When it slows for those milliseconds, etc etc. it is a opportunity to either heat the charge up due to a hot passage thru the carb throat or throttle body or, an opportunity to cool the charge for more HP & less chance for detonation & pre-ignition. A cooler charge also allows for more ignition timing without getting into the "danger zone" too far. Whats really ironic is how on some single cylinder bikes the exhaust passes right next to the carb!!

The bottom line is the cooler you can keep the air before it gets to the point of being mixed with the fuel, and, the cooler you can keep the area where the initial mixing takes place the better off you are, period! Especially under racing conditions, where the cooler fuel\air charge is passing thru at a high rate, &, if it's a carb, the fuel is passing thru the bowl(s) fairly rapidly, the deflection of heat from the metal housing on the carb(s) or throttle bodies is for sure, a very

inexpensive way to acquire a win/win scenario, more HP, & less chance of engine damage due to pre-ignition or detonation!